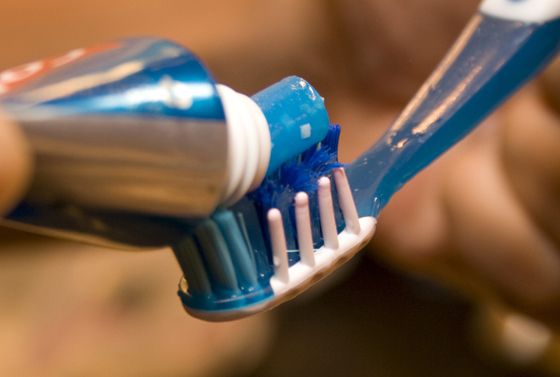 Photo by photoXpress
Is Hydrogen Peroxide Bad For Your Teeth
Lets Answer The Most Obvious Question First
One of the first things people ask is whether hydrogen peroxide is bad for your teeth. The oxidizing effects of Hydrogen Peroxide teeth whitening gels (HP) pose the greatest risk to the enamel. In a study titled "Effect of home bleaching systems on enamel nanohardness and elastic modulus" researchers found that "Nanohardness and elastic modulus of human enamel were significantly decreased after the application of home-bleaching systems." And while the damage may be minimal, per use, over time the accumulated harm to the enamel could be significant.
This isn't to say that you shouldn't use HP for whitening, or that its bad for your teeth, just that you need to be aware of the inherent risks, and minimize the frequency of which you use it. While its not going to effect most casual users, there is now a phenomenon called bleachorexia where people are obsessed with whitening their teeth, and for them the damage to enamel can be severe.
Other risks associated with "normal" use of HP to whiten teeth is sensitivity and damage to your gums. This may sound like a minor consequence of bleaching your teeth, but the pain levels can be quite high for some people, and the damaged gum areas can be problematic on their own.
You can reduce the likelihood of sensitivity by following the recommended usage guidelines from the ADA, and by limiting how often you whiten your teeth. Additionally, you can follow some natural, healthy tips to help your teeth maintain the fresh white color you're after.
Crunchy foods like grains and crisp vegetables and fruits (e.g. carrots, celery and apples) act like natural, micro abrasives and help clean your teeth. Dr. Oz has even stated that there may be a natural whitening benefit to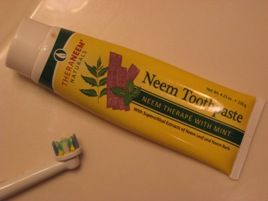 eating fruits like strawberries. Another Dr. Oz favorite is Neem based toothpastes like this one that I use
. Here's another one that blends other natural ingredients and which reviewers have been extremely happy with- Himalaya Herbal Neem & Pomegranate Toothpaste
To read more about the benefits of neem based products, here's a link to the Dr. Oz blog article about it. Dr. Oz Herb of the Month - Neem
Cheese and dairy products are believed to promote the regeneration of tooth enamel. Whether or not they provide any measurable boost, there's no risk associated with adding some dairy to your diet.
A safer, and quicker way to enjoy the benefits of Hydrogen Peroxide teeth whitening is to use it daily as a mouth rinse, which also serves to help fight other diseases such as gingivitis. Simply rinse with a mixture of 3% hydrogen peroxide diluted with an equal part tap water (1/2 and 1/2) each morning and night after you've brushed. While the whitening results aren't immediate, if you make it a part of your regime the long term benefits are dramatic and within 3 - 4 weeks you'll notice, and others will, too.

Photo by velma
Dr. Collins Restore Toothpaste, 4-Ounce Box - If You Use Peroxide Then This Is A Smart ChoiceSee Amazon Reviews
Kiss Your Dentist Goodbye: A Do-It-Yourself Mouth Care System for Healthy, Clean Gums and TeethSee Amazon Reviews
TheraNeem Mint Toothpaste by Organix South 4 oz Paste Herbal Mint ToothpasteSee Amazon Reviews
Have You Ever Used A Hydrogen Peroxide Teeth Whitener?
Have you ever tried Hydrogen Peroxide based whiteners?
Add a Comment
Does Hydrogen Peroxide Teeth Whitening Work?
Let's Examine How Effective It Is, And What You Can Expect
There is no doubt, as everyone knows, that you can achieve some amazing results when whitening your teeth with Hydrogen Peroxide. The safest, most effective way is to have it done by your dentist using a safe light source to accelerate the process, minimizing the exposure your gums and enamel have to the oxidizing gel.
In terms of whether you use Carbamide or Hydrogen Peroxide, the essential difference to know is that Carbamide solutions have about 1/3 the oxidizing strength of Hydrogen based ones, and the Carbamide whiteners are more stable and have a longer shelf life (they remain more effective, longer, than regular Hydrogen Peroxide whiteners). Finally, as it relates to the two, Hydrogen Peroxide works much faster, that is, it begins to oxidize quicker, and responds better to light sources, so in the hopes of minimizing exposure it is the best choice and the one many dentists use. On the other hand, if you're doing it on your own, at home, by using trays and gel, perhaps the best solution for minimizing sensitivity and ensuring that your solution remains active, longer, the Carbamide solution is best.
So here is the bottom line. Hydrogen Peroxide teeth whiteners work, and work well. But if you're doing it at home the traditional way, with trays and gel, choose a Carbamide solution instead. If you want to have similar, quick results that a treatment at the dentist would provide you can get a teeth whitening kit with accelerator light
. Many, if not most, of these kits use Carbamide solutions because its frankly more stable and your more likely to get the full potential from it than a degenerated Hydrogen gel that has sat on some shelf for who knows how long.
I would highly recommend buying your solutions from a reputable source like Amazon to increase the liklihood that you're getting fresh, and safe, whitening gels. I personally also use the accelerator light source to enhance the whitening time and protect my teeth and gums as much as possible. Having white teeth now isn't worth the price of gumming my food later in life!
Photo used under Creative Commons from groupon
Teeth Whitening Kit 44% with 10 syringes of gel, 2- Trays and LightSee Amazon Reviews
Crest 3D Whitestrips With Advanced Seal Professional EffectsSee Amazon Reviews
Rembrandt Intense Stain Dissolving Enamel-Safe Strips, 56 CountSee Amazon Reviews
Featured Articles You Might Enjoy
Top 5 Paracord Bracelet Patterns
So many people are now learning to make paracord bracelets, and because of that people are looking for more patterns to make different types of knots and pro...
How To Make A Paracord Bracelet In Two Easy Steps
In this article you'll learn how to make a paracord bracelet in simple steps with the easy picture tutorial. Be making your first bracelet in minutes. Knowi...
Best Kites For Kids
While this is a review of one the best kites for kids, it's also a discussion of the great kite hobby. So relatively inexpensive and simple, yet so few famil...
Best Backpack Brands - Buyer's Guide
Anyone looking to buy a new backpack knows how expensive they are, and that's why a review of the best backpack brands and models is helpful. In this lens we...
Prepper Guide & Tutorial
This is a comprehensive guide to teach you all about doomsday prepping, and preparing your own cache of emergency essentials. We'll also cover a 7 day surviv...
Best Electric Toothbrush For Kids
In this article we'll take a look at the best electric toothbrush for kids, as well as why good dental hygiene is so important for children. And it's about m...
How To Smoke Ribs - Step By Step Guide
Smoking ribs is an art, but an easy one to master. There isn't anything that comes close to smell of smoking meat or the taste and texture of good smoked rib...
Cheapest Batteries Online
If you use any electronics at all you know battery prices have gotten expensive. So we're all searching for the cheapest batteries online, or at least the ch...
1DaySale And The Ultimate Bargain Guide
Your inside source to the biggest 1DaySale deals. Everyone is looking to save money and bargain, daily steals and closeout websites are the way many...
Top 5 Friendship Bracelet Patterns
One of the hottest crafts around, everyone is looking for the newest or coolest friendship bracelet patterns. There are hundreds of...
I hope you found this lens helpful....
This module only appears with actual data when viewed on a live lens. The favorite and lensroll options will appear on a live lens if the viewer is a member of Squidoo and logged in.
Add this to your lens
Some Of My Favorites At Amazon MP3
Check out my favorite songs! I've handpicked these MP3s from Amazon. Take a listen. If you like, you can click to buy them on Amazon.
Frequently Asked Questions
QUESTION:
Why do I get such bad breath in the morning?
Also
1) How many times a day are you supposed to floss, brush, and mouthwash?
2) What gum is best for bad breath? (brands)

ANSWER:
Brush and floss before bedtime, and for breath I like Eclipse brand gum.

QUESTION:
What is the best mouthwash for overall health?
I don't have yellow teeth or bad breath. I'm just looking for a specific brand of mouthwash that helps with overall health. (bacteria, cavities, plaque)

ANSWER:
DO NOT use Crest Pro-Health. I've just tried it for 2 days and it has numbed my taste. After some research, I found people who were also having dulled taste and stained teeth after using Pro-Health. I recommend ACT. It is alcohol free and also has fluoride in it. ACT is also the brand that my dentist recommended.

QUESTION:
Best type of mouthwash to use to prevent cavities and plaque?
I was just wondering if mouthwashing does help in preventing cavities/plaque and bacteria from accumulating in the mouth. Besides avoiding bad breath of course. Can someone tell me the best brand to buy to prevent cavities and such?

ANSWER:
The best brand for preventing cavities is a plain fluoride one like ACT, which can be found easily in most stores. Listerine has two new kinds with fluoride in it, one with alcohol and one without. The one without alcohol is better because alcohol is drying and bacteria actually flourish more when your mouth is dry (and there are also new studies showing alcohol in mouth rinses may increase risk of oral cancers). Crest pro-health also has multiple flavors of fluoride mouth rinses and these both contain fluoride and antibacterial components. Crest pro-health can cause staining however (mostly between the teeth), tissue sloughing, and altered taste sensation after use, but if you are looking for one with both germ killing and fluoride ingrediants it is the way to go. I prefer the plain fluoride rinse personally because it does not stain and if you use it consistently on a regular basis it can decrease bacteria.

QUESTION:
Does mouthwash really reduce plaque on teeth?
I have had my braces for 2 and a half months now and for the two times I have returned to my Orthodontist to get them tightened, he has said that I have to much plaque build up.

I have seen mouthwash ads on TV and im just wondering if mouthwash really helps to stop bad breath, plaque and other bad things for the mouth?

ANSWER:
yes it does, providing is a good and reputable brand of wash mouth, how ever, some proper tooth paste with the old good brush will do the trick and if you want to add mouth wash is a bonus...
but it may be not necessary true what your dentist is complaining about...

QUESTION:
Is brushing your teeth enough to get rid of bad breath?
I brush my teeth twice a day and use mouthwash too. Is this enough to get rid of bad breath? No one has told me I have bad breath or anything it's just when people talk to me with bad breath I find it disgusting and I would hate to be like that xD

ANSWER:
Hi Charlie,
Just brushing your teeth and using mouthwash may not be enough for rid yourself of bad breath. It can also be difficult to tell if you have bad breath, due to Acclimation with makes it difficult to smell your own body s odors (good or bad).

Sounds like you re on the right track to combat your bad breath. I recommend Therabreath products, but you have to use them only mixing it with other brands of toothpaste and mouthwash undoes all the benefits that the products offer try that, you should see results in a few days if not sooner. You may want to double check the ingredients on your mouthwash.

Make sure you are keeping yourself hydrated and following the right oral care routine. But here are some tips:

1)Check your toothpaste and any mouthwash that you use to make sure they don t contain either alcohol or sugar. Toothpaste may also contain an ingredient called sodium lauryl sulfate. All three of these either dry out your mouth or provide proteins to sulfur-producing anaerobic bacteria that cause bad breath.

2)Look for oxygenating toothpastes and oral rinses. Saliva fights off sulfur emissions because it is loaded with oxygen. When your mouth dries out, you lose that defense mechanism. Replace it with the right oral hygiene products.

3)Avoid high protein diets and gums or mints that contain sugar. Diets that require you to eat all meat with little starches might help you lose weight, but they tend to wreak havoc on your breath. A sugary mint or stick of gum might freshen your breath for a minute, but you re really just providing nourishment to bacteria that cause bad breath.

It is important to brush your tongue, your cheeks and the rough of your mouth too, but I know that people with a sensitive gag reflex can really hate having to do it. It s also important to brush the roof of your mouth too. Tongue scraping (and brushing) alone won t fix bad breath and/or if you have white tongue. It depends on the shape and texture of your tongue, diet and a bunch of other things. Also, you can hurt your tongue if you scrape it too hard. You have to clean your tongue correctly.

You can check out more about tongue coating here http://www.therabreath.com/art_whitetongue.asp and find out more about that yucky gunk on your tongue too.

For the back of your tongue, try using a mouthwash without alcohol in it, that should help too. Try any of Therabreath s mouthwashes. None of them contain alcohol and they are safe enough to swallow.

Also, have you thought about taking an oral care probiotic of some sort? Here s a great site with tons of information on probiotics and its benefits: www.proprobiotics.com

To find out more on how to treat bad breath go to http://www.therabreath.com/articles.asp which has informative articles about treating bad breath.

I hope this helps.
bad breath best best mouthwash brands